Satguru Dev Ji (Shri Samsher Bahadur Saxena Ji)
Sat Guru Dev Ji Shri Shamsher Bahadur Saxena Jee, a great SAINT of India was born on 12th January 1938 at Baraily, Makukpur, U.P. His father Poshaki Lal Jee and mother Hansmukhi Devi Jee were overwhelmed at the time of birth of Satguru Jee.
His introduction into the principals of bhakti school came when he was a young boy. From his childhood he concentrated on one of the armament of Maa Santoshi, the Sword that is why he was named as Shamsher because the Urdu meaning of Sword is SHAMSHER.As the custom he lived for a time as a house holder and assumed the normal duties of raising and supporting the family. He was married to Sadguru Maa Smt. Kanta Saxena Jee in 1962. She bore him two sons by the name of Amit Saxena Jee & Nitin Saxena Jee.
He joined the Govt. Service in Army and after few transfers in 1967, he came to Delhi and started his life from a house in G Block Hari Nagar and started meditation of Maa Santoshi in front of a pratima of Maa Santoshi and started blessing the suffering of downtrodden in the form of "Chowki". Finally his meditation and blessings brought a wonderful dream come true in the form of a huge beautifully designed temple on 3rd July 1981, and on the same day deities of Maa Vaishno, Maa Saraswati along with Maa Santoshi were consecrated with all Pooja's and Shringar's and with the blessings of these Goddesses on 29th February 1984 deities of Shiv Parivar, Gaytri Mata, Sheetla Mata and Chitragupta Maharaj deities were added in this series and on 9th Feb 1998, the largest idol in Asia of Maa Santoshi madeup of 9 precious metals was consecrated. The devotees encompasses various deities for worshiping, they put their faith in the deity they worship.
Sadguru Shri Shamsher Bhadur Saxena Jee was believed to be the incarnation of Maa Santoshi. He taught the people could cast aside the heavy burden of rituals and cast and subtle complexities of philosophy and simply express their over whelming love for Maa Santoshi. The world Bhakti is derived from Bhakta meaning to serve, honour, revere love and adore in the religious idiom.
Sadguru Jee believe in self surrender & Maa's Bhagti. The Moral tone is quite strong in his hymns "Where there is mercy there is strength, where there is forgiveness there is Maa Santoshi". He appreciated the simplicity of the poor and condemned the vanity & pride of rich by such condemnation he preached the common brotherhood of man. Sadguru Shri Shamsher Bhadur Saxena was soft spoken, sweet, mild mannered, gifted with divine power of Maa Santoshi. The fame of "Santoshi Mata ki Chowki" spread far and wide. Those who came in contact with Maa & discussed their problem one to one were affected by her strong current; Sadguru Jee was an embodiment of love and innocence. His heart was the temple of devotion. His face was the lotus flower of love. There was kindness in his look. Love in his talk. Joy in his discourses, power in his speech and fervors in his devotional and religious bhazan's.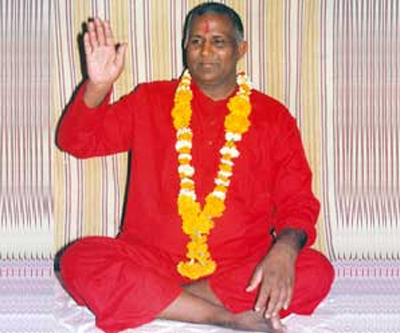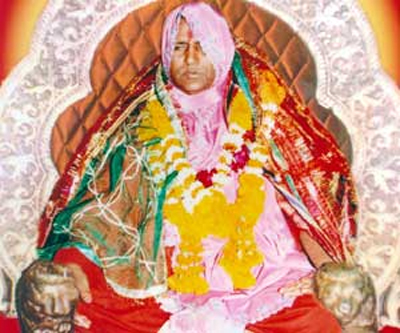 It is said during his nirvana on 01/08/2005 he melted in to the heart of Maa Santoshi and Maa Santoshi appeared in her subtle form and entered into the body of Shri Amit Saxena Jee.
On account of his renunciation single minded devotion to Maa Santoshi and self realization he attained, therefore he is still giving his blessing to all his devotees in the form of a live deity consecrated on 06/12/2005 in the heart of temple.