Chowki
Shri Santoshi Mata Mandir, G-Block, Jail road, Hari Nagar run by Shri Santoshi Group of Industries was established by Satguru Dev Ji (Shri Samsher Bahadur Saxena Ji) and currently under the control of Guru Ji(Bhakt Shri Amit Saxena Ji), who is 'Sanrakshak' and 'Sanchalak' of Maa Santoshi Mandir in G-Block, Hari Nagar Jail Road, New Delhi-110 058.
"Chowki" at Shri Santoshi Mata Mandir, Hari Nagar, New Delhi (India) initially started by Satguru Dev Ji( Shri Shamsher Bahadur Saxena Ji) and now organized by Guru Dev Ji(Present Bhagat Ji - Shri Amit Saxena Ji)at Shri Santoshi Mata Mandir, Hari Nagar, New Delhi (India) in a very beautiful Bhavan at mandir's roof and at the middle of Bhavan where a very beautiful statue of Goddess Santoshi is kept. Goddess looks very lovely with a lavish smile on her face.
Right behind Goddess Santoshi's statue, Goddess Vaishno and Goddess Laxmi's statues are placed. Lord Krishna and Goddess Radha are placed on the right and Goddess Kaali, Lord Ganesh & Lord Rama are placed just nearby.
On the left there are beautiful statues of Lord Hanuman, Lord Shiva and Guru Nanak Dev Ji. Just besides Goddess Santoshi, Lord Krishna is placed and Goddess Saraswati is also sitting with her graceful presence. Every statue present at the Bhavan looks so alive that sometimes we feel as if they will start the conversation with us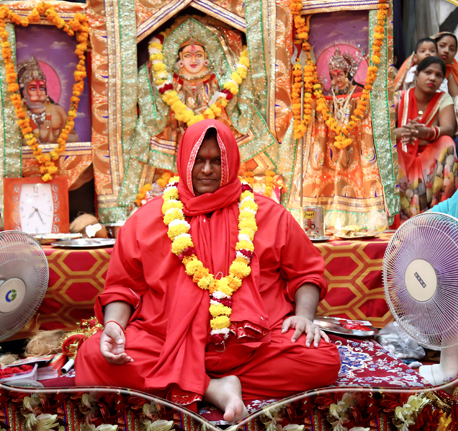 When Bhagat Ji comes for the "Chowki" then his face shines with Goddess Santoshi's grace and every follower becomes very excited to think that now they will be able to have a talk with their mother Maa Santoshi. After sitting at the Aasan (place where Bhagat Ji sits), Bhagat Jilights various Jyots which are meant for various Lords and Goddesses. Goddess Santoshi's jyot is kept at the middle, after this all the devotees sing various devotional songs. After listening to these devotional songs Goddess Santoshi comes inside the body of Bhagat Ji and initially Bhagat Ji walks as if Goddess is sitting on her lion. Goddess puts the enlightened jyots in her mouth and every devotee looks at her with full devotion. Then goddess wears red shawl on her head and one of her devotees puts garland around her neck.
When Goddess is inside Bhagat Ji his face is enlightened with her glow and happiness. After this goddess calls her devotees to have a talk with her but no one is allowed to touch her or bow their heads in front of the Goddess. Devotees are divided into two groups first one are those who have already had a talk with the goddess and the other ones are those who came for the first time. Devotees are given all the instructions on how to have a conversation with the Goddess. Goddess gives the Prasad to all her devotees and very lovingly takes their hands in her hands to have a conversation with them. She herself knows everything about everyone who comes to share their problems with the Goddess. Mata solves her follower's problems with Jal (water), red colored Dora and Ghee. We can see lots of Goddess's devotees at the "Chowki" who are very keen to follow all the instructions given by the supreme Goddess sitting there in the form of "Chowki"
At Santoshi Mata Mandir, "Chowki" is held on following four days: Friday - 6:00 PM, Saturday - 5:00 AM Sunday - 9:00 AM, Tuesday - 6:00 PM. Goddess Santoshi sits in the "Chowki"on Fridays and Sundays & on Tuesday Goddess Vaishno has a talk with her devotees.
Sitting and talking to the Goddess is a divine experience and it is different for different devotees. As the Goddess herself says that I am just like water and I change my forms as per the devotee's feelings. Everyone can feel the power and uniqueness of Goddess Santoshi when she puts her hand in their hands. We always think that when we will go to the Goddess we will talk this and that but when we come near her we forget everything and come out of that feeling only when the Goddess herself tells us the reason for which we came to her. It's really a very enriching and fulfilling experience to sit and watch the goddess. Sometimes Goddess looks very angry but that form is also to erase the hurdles.