History of Hari Nagar Temple
Maa Santoshi Mandir in G-Block, Hari Nagar Jail Road, New Delhi-110 058, which was founded on 3rd July 1981 by holiness Satguru Shri Shamsher Bahadur Saxena Ji and his wife Satguru Maa Mrs. Kanta Saxena Ji. He was the 'Sansthapak' of this holy temple.
Shri Shamsher Bahadur Saxena Ji joined the Govt. Service in Army and after few transfers in 1967, he came to Delhi and started his life from a house in G Block Hari Nagar and started meditation of Maa Santoshi in front of a pratima of Maa Santoshi and started blessing the suffering of downtrodden in the form of "Chowki". Finally his meditation and blessings brought a wonderful dream come true in the form of a huge beautifully designed temple on 3rd July 1981, and on the same day deities of Maa Vaishno, Maa Saraswati along with Maa Santoshi were consecrated with all Pooja's and Shringar's and with the blessings of these Goddesses on 29th February 1984 deities of Shiv Parivar, Gaytri Mata, Sheetla Mata and Chitragupta Maharaj deities were added in this series and on 9th Feb 1998, the largest idol in Asia of Maa Santoshi madeup of 9 precious metals(Ashatdhatu Idol) was consecrated. The devotees encompasses various deities for worshiping, they put their faith in the deity they worship.
It is said during his nirvana on 01/08/2005 he melted in to the heart of Maa Santoshi and Maa Santoshi appeared in her subtle form and entered into the body of Shri Amit Saxena Ji. At present, Bhakt Shri Amit Saxena Ji is 'Sanrakshak' and 'Sanchalak' of Maa Santoshi Mandir in G-Block, Hari Nagar Jail Road, New Delhi-110 058.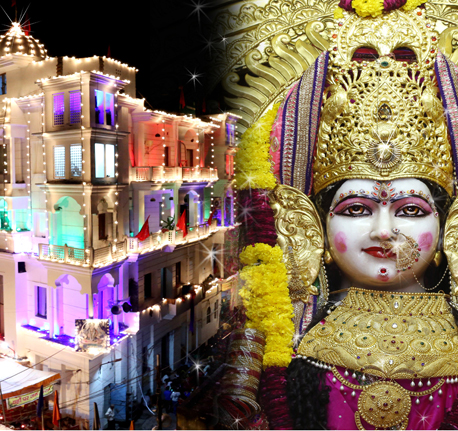 Shri Amit Saxena Ji has taken a solemn pledge to build at least one Santoshi Maa Mandir in each of the 28 states of the country. There is no doubt that with the blessing of Maa Santoshi and active cooperation of devotees, this noble and laudable assignment would be accomplished in coming years.
We feel that his strengths and powers would continue to inspire and guide the future growth and expansion of this institute to reach new horizons.