Aarti
The 'Aarti' of the Goddess is performed twice a day first time in the morning just before the sunrise and second time in the evening immediately after the sunset.
The procedure of 'Aarti' is a very sacred and lengthy one. Before the commencement of 'Aarti', the Pujaris perform 'Aatam pujan' i,e self-purification. Then the Goddess is bathed in water, milk, ghee (Clarified butter), honey and sugar. Thereafter the goddess is dressed-up in a saree, chola and chuni and ornaments are endowed upon her. The whole process takes place amidst the enchantment of various shlokas and Mantras. Thereafter Tilak is placed on the forehead of the deity and Navied (prashad) is offered to her. The Pujaris perform puja of various Gods and Goddesses, as it is a believed that during the Aarti time, all the Gods and Goddesses are present inside the sanctum Sanctorum.
The Jyoti (divine lamp) is lightened and then the 'Aarti' of the goddess is performed. After the whole procedure, the thaal which contains the lamp and various other items used in the 'Aarti', is brought outside where 'Aarti' of the goddess is performed in the presence of devotees. After the Aarti is over, the pujari distributes Prasadam and the charanamrit ( the holy water) to the devotees.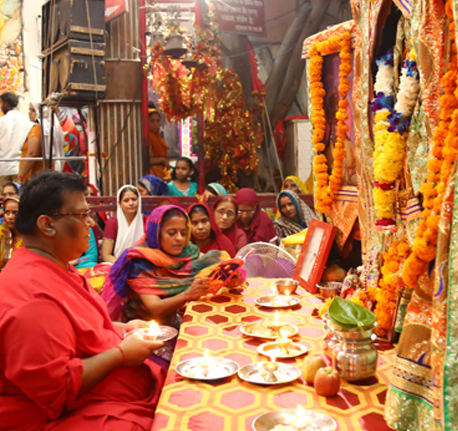 JAI SANTOSHII MAATAA, MAIYAA JAI SANTOSHII MAATAA APANE SEVAKA JANA KII SUKHA SAMPATI DAATAA
SUNDARA CHIRA SUNAHARII, MAAN DHAARANA KIINHON HIIRAA PANNAA DAMAKE, TANA SHRINGAARA LIYO
GERUU LAALA CHATAA CHAVI, ABDANA KAMALA SOHE MANDA HANSATA KARUNAAMAYII, TRIBHUVANA MANA MOHE
SVARNA SINHAASANA BAITHI CHANVARA DHARE PYAARE DHUUPA DIIPA MEVAA BHOGA DHARE NYAARE
GUDA AURA CHANAA PARAMA PRIYA, TAAMEIN SANTOSHA KIYO SANTOSHII KAHALAAII BHAKTANA VIBHAVA DIYO
SHUKRAVAARA PRIYA MAANATA, AAJA DIVASA SOHII BHAKTA MANDALII CHAAII, KATHAA SUNATA MOHII
MANDIRA JAGAMAGA JYOTI, MANGALA DHVANI CHAAII VINAYA KAREIN TERE BAALAKA CHARANANA SIRA NAAII
BHAKTI BHAAVAMAYII PUUJAA ANGIKRUTA KIIJAI BAHU DHANA DHAANYA BHARE GHARA SUKHA SAUBHAAGYA DIYE
DHYAANA DHARO TERO MANAVAANCHITA PHALA PAAYO PUUJAA KATHAA SHRAVANA KARA GHARA AANANDA AAYO
SHARANA GAHE KIILAAJA RAKHIYO JAGADAMBE SANKATA TUU HII NIVAARE DAYAAMAYII AMBE
SANTOSHII MAAN KII AARATII, JO OII JANA GAAVAI RIDDHI SIDDHI SUKHA SAMPATI, JI BHARA KE PAAVAI
jaya santoshhii maataa, maiyaa jaya santoshhii maataa | apane sevaka jana kii sukh sampati daataa | maiyaa jaya santoshhii maataa |