Guru Dev Ji (Bhakt Ji -Shri Amit Saxena Ji)
Bhakt Shri Amit Saxena Ji is 'Sanrakshak' and 'Sanchalak' of Maa Santoshi Mandir in G-Block, Hari Nagar Jail Road, New Delhi-110 058, which was founded on 3rd July 1981 by his father holiness Satguru Shri Shamsher Bahadur Saxena Ji and his wife Satguru Maa Mrs. Kanta Saxena Ji. His father was the 'Sansthapak' of this holy temple.
Since childhood, Shri Amit Ji possessed characteristics of a saint who was fully engrossed in religious and mythological books. Unlike other children of his age, he had deep interest in listening to religious hymns. The fact of life that truth and love can only take you near God was realized by him in his childhood. Having realized that only God would save this world and his purpose in life was serving humanity, his adolescent years were spent in continuous pooja, listening to religious bhajans, reading Holy Scriptures and attending discourses.
It is extremely difficult to describe in words the blessings and magical powers bestowed upon him by the Almighty. We very well know that our mythology is full of illustrations where God, through his various incarnations, himself has lived a life among mortals for guiding their life and deeds. One such divine example of incarnation in recent times relates to Shri Amit Saxena Ji by Goddess Maa Santoshi. The devotees of Maa Santoshi fondly call him Bhakt Ji, who through sacrifices and unflinching devotion has shown the path of enlightenment and righteousness to the people.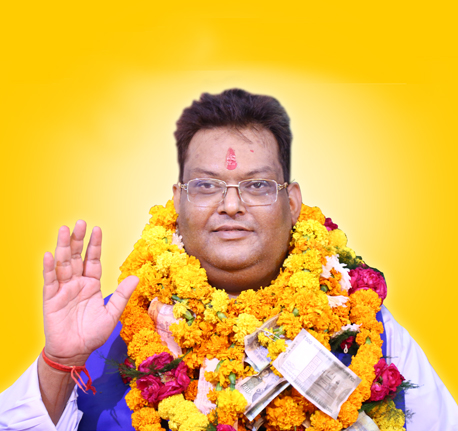 Shri Arnit Saxena Ji received his primary and senior level education like any other person. Apart from keeping himself abreast with all-round progress, he attained Master in Business Administration from New Delhi Institute of Management.
It is truly said that one cannot traverse the path of God through renunciation of worldly activities. One has to live and experience the pain and pleasure of life and yet pursue the divine and pious path of religion. He has a conviction that it is not necessary to quit friends and family to pursue life of religious teachings. One can pray love humanity and achieve brotherhood and still continue to perform day to day duties at home and in workplace.
Maa Santoshi has showered immense love and affection on Shri Amit Saxena Ji. He has exhibited great zeal and dedication towards religious hymes of Maa Santoshi since very childhood. By virtue of his propensity and dedication, he has achieved remarkable success in all spheres of life, be it love and affection from the elders and dedication from the youngsters.
Sh. Amit Saxena Ji has taken a solemn pledge to build at least one Santoshi Maa Mandir in each of the 26 states of the country. There is no doubt that with the blessing of Maa Santoshi and active cooperation of devotees, this noble and laudable assignment would be accomplished in coming years
We feel that his strengths and powers would continue to inspire and guide the future growth and expansion of this institute to reach new horizons.